BH Cosmetics BH Chic 14 Piece Brush Set with Cosmetic Case
De BH Cosmetics BH Chic 14 Piece Brush Set with Cosmetic Case is een collectie van professionele kwasten met essentials voor je gezicht, ogen en lippen.
De kwasten kunnen gebruikt worden voor liquids, creams en poeders om een flawless finish te behalen.
Deze kwasten set bevat :
Angled Powder Brush
Medium Powder Brush
Small Powder Brush
Angled Crease Brush
Medium Flat Eyeshadow Brush
Medium Oval Eyeshadow Brush
Eyeshadow Blending Brush
Concealer Brush
Small Concealer Brush
Flat Eyeliner Brush
Angled Eyeliner Brush
Oval Lip Brush
Standard Lip Brush
Precision Eyeliner Brush
Deze kwasten :
Zijn cruelty free
Zijn makkelijk schoon te maken
Hebben een professionele kwaliteit
Onderhoud :
Voor een optimale levensduur en hygiene van je kwasten te garanderen behoren de kwasten wekelijks gereinigd te worden.
Gebruik hiervoor :
Droog je kwasten ondersteboven zodat er geen vocht bij de lijmlagen van de haren kunnen komen.

Behoud de vorm van je kwasten met de Pro Brush Protector voor een perfect resultaat.
Check ook onze volledige collectie make-up kwastensets of benieuwd naar de hele collectie van BH Cosmetics?
Bij Boozyshop vind je alles om jouw makeup stash compleet te maken, bekijk snel alle make-up kwasten.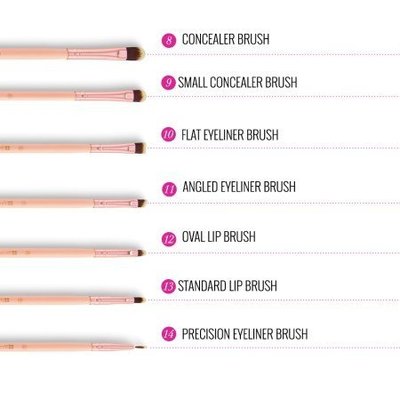 Boozyshop
5 /5
-
2538
beoordelingen op
Yotpo