Boozyshop Skincare
Yes, yes, yes! Je leest het goed: wij van Boozyshop hebben onze eigen huidverzorging gelanceerd! Daar zijn we natuurlijk super trots op en daarom vertellen we jou graag alle ins & outs!
Kwalitatief goede producten
Bij huidverzorging is niets belangrijker dan het gebruik maken van de juiste ingrediënten. En de juiste ingrediënten, die zitten in de skincare van Boozyshop. Dit resulteert in hoge kwaliteit producten, die enkel de hoognodige ingrediënten bevatten. Zo is onze skincare lijn vrij van siliconen, parabenen, sulfaten, alcohol, gluten én parfum. Daar wordt jouw huid blij van!
Boozyshop Skincare is voor iedereen
Jong, oud, een droge huid of juist een vette. Puistjes, fijne lijntjes, of toch meer last van pigmentatie? Bij Boozyshop ben je aan het goede adres. Wij vinden het belangrijk om huidverzorging toegankelijk te maken voor iedereen en daarom is onze skincare geschikt voor alle huidtypen. Dankzij de "schone" ingrediëntenlijst is Boozyshop Skincare zelfs geschikt voor de meest gevoelige huid!
Onze huidverzorgingslijn is niet alleen lief voor je huid, maar ook voor je portemonnee. Boozyshop Skincare is een laagdrempelige manier om kennis te maken met huidverzorging óf om je dure skincare te vervangen door een meer betaalbare variant, zonder kwaliteit te verliezen.

Ruim assortiment
Ga je voor Boozyshop Skincare, dan heb je keuze uit een ruim assortiment. Je hele skincare routine vind je bij ons! Dat betekent niet alleen fijne producten die naadloos op elkaar aansluiten, maar ook een leuk roze gevuld badkamerkastje! Want zeg maar eerlijk: die roze verpakkingen wil je hebben, toch? We geven jou graag tips voor een optimale skincare routine, geschikt voor alle huidtypen:
Stap 1: reinigen
De basis van een goede huidverzorgingsroutine is het reinigen van je gezicht. Dit doe je met de Boozyshop Salicylic Acid Cleanser. Deze licht schuimende reiniger verwijdert vuil en restjes make-up van je gezicht en gaat verstopte poriën, puistjes en onzuiverheden tegen. Deze cleanser is rijk aan salicylzuur, een ingrediënt dat verstopte poriën tegengaat en je huid op een milde wijze exfolieërt en dode huidcellen verwijdert.
Nog een onmisbare stap in je skincare routine is het regelmatig scrubben van je huid. Door te scrubben met de Boozyshop Watermelon Exfoliating Face Scrub verwijder je dode huidcellen grondig. De Aloë Vera in deze scrub stimuleert de celvernieuwing van je huid, waardoor onzuiverheden verminderen en tekenen van huidveroudering worden tegen gegaan. 
Stap 2: hydrateren
De volgende stap in je routine is het hydrateren van je huid. Dit kan je het allerbeste doen met hyaluronzuur, en laat dat nou in ons assortiment zitten. De Boozyshop Hyaluronic Acid Moisturizer geeft jouw huid een echte hydratatieboost en zorgt er voor dat een droge huid en/of droge plekjes verdwijnen. Deze crème is rijk aan hyaluronzuur, een vochtinbrenger die er voor zorgt dat je huid intens gehydrateerd wordt. Hyaluronzuur "vult" je huid als het ware op, waardoor ze er weer stevig en zacht uitziet en fijne lijntjes zichtbaar verminderen.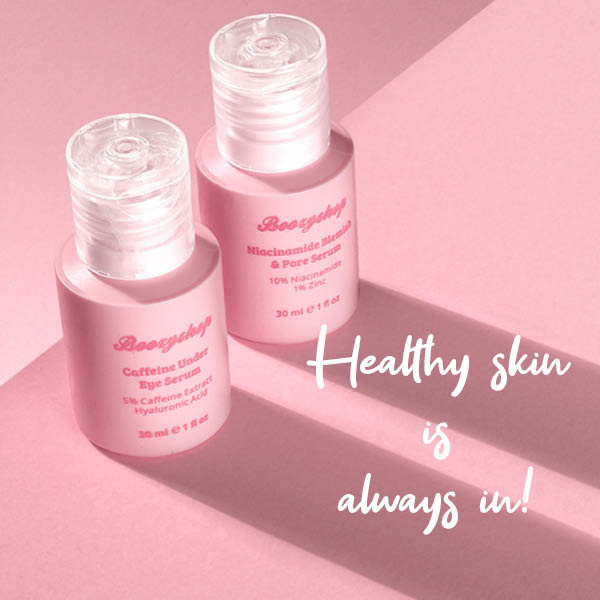 Stap 3: verzorgen
Een goede aanvulling op je skincare routine is het verzorgen van je huid met een fijn serum. In het assortiment Boozyshop Skincare vind je maar liefst zes verschillende soorten serum. Er is er sowieso ééntje voor jou geschikt!
Het Boozyshop Niacinamide Blemish & Pore Serum is een egaliserend serum dat helpt om uitbraken van onzuiverheden, zoals acné, te voorkomen. Daarnaast reinigt dit serum je poriën, waardoor mee-eters en overtollig talg worden verwijderd en ook een overmatige vette huid en roodheid zijn verleden tijd.
Dan hebben we ook nog het Boozyshop Caffeine Under Eye Serum, een serum speciaal voor de tedere huid onder je ogen, welke er voor zorgt dat donkere kringen, fijne lijntjes en rimpels verminderen. De huid onder je ogen zal minder gezwollen zijn, waardoor je er wakkerder en stralender uitziet.
Last van een oneffen huid, met voornamelijk donkere plekjes en een doffe uitstraling? Het Boozyshop Vitamin C Radiant Skin Serum has got your back! Dit serum zorgt dat je huid weer gaat stralen en vermindert tekenen van huidveroudering.
Naarmate je ouder wordt, ga je dat ook merken aan je huid. Donkere vlekjes, fijne lijntjes en rimpeltjes: it's all in the game. Gelukkig kan het Boozyshop Ferulic Acid Spot & Pigmentation Serum jou daarbij helpen! Dit serum vormt een beschermlaagje rond je huid, waardoor ze beschermt is tegen invloeden van buitenaf. Zo wordt vroegtijdige huidveroudering tegen gegaan en zal je huid er egaler uitzien.
Heb je al last van een onzuivere huid en wil je daar graag vanaf? Dan is het Boozyshop Salicylic Acid Clarifying Serum iets voor jou! Al vanaf het eerste gebruik zal je merken dat onzuiverheden verminderen en poriën verkleinen, waardoor je huid er egaler uitziet. Het verschil met ons Niacinamide Serum? Niacinamide is vooral bedoelt om onzuiverheden te voorkomen, Salicylic Acid werkt effectief als je al onzuiverheden hebt.
Als laatste in het rijtje hebben we een exfoliërend serum: het Boozyshop Multi Acid Exfoliating Serum. Dit serum verwijdert dode huidcellen, waardoor je huid grondig gereinigd wordt en er weer stralend uitziet. Acne, dofheid, donkere vlekjes en hyperpigmentatie zijn verleden tijd!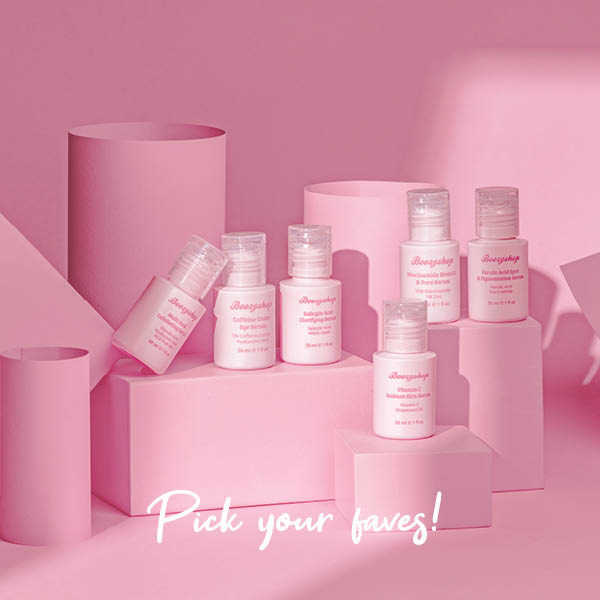 Stap 4: verwennen
Nu je je dagelijkse skincare routine bij elkaar hebt, is het tijd om een fijn masker uit te kiezen, zodat je je huid wekelijks kunt verwennen. Met het Boozyshop Pink Clay Detox Mask zeg je gedag tegen onzuiverheden zoals mee-eters, acné, roodheid en grove poriën. Ook neemt dit masker overtollige oliën die een vette huidveroorzaken, op. De roze klei en Kaolin in dit masker zorgen er voor dat jouw huid weer zacht, soepel en egaal aanvoelt.
Advies nodig?
Het kiezen van de juiste huidverzorging kan lastig zijn, maar de toppers van onze klantenservice helpen jou maar al te graag! Dus: heb je een vraag, twijfel je, of wil je graag advies? Schroom niet en spreek ons vooral aan in de live-chat op de website of stuur een mailtje of berichtje via WhatsApp. Echt doen, hoor!