Boozyshop Ultimate Pro 22 pc Master Full Set
De Boozyshop Ultimate Pro 22 pc Master Full Set is een complete kwastenset waarmee jij al jouw make-up perfect op een professionele manier aanbrengt. In deze set vind je alle benodigde kwasten, van een contour brush tot een blender brush en van een crease kwast naar een buffer brush; met deze set is jouw collectie compleet!
De kwasten hebben een mooi glanzend, zwart houten handvat in combinatie met een prachtig gouden ferrule van aluminium. Deze set bestaat uit een mix van kwasten met dierlijke- of synthetische haren en zijn er voor gemaakt om al jouw make-up perfect aan te brengen. 
Ben je op zoek naar een kwastenset waarmee jij alle benodigde tools hebt om je make-up als een echte makeup artist aan te brengen? Bestel dan nu de Boozyshop Ultimate Pro 22 pc Master Full Set!
Deze kwastenset bestaat uit de volgende kwasten:
UP06 Contour Brush
UP07 Highlight & Bronzer Brush
UP08 Under Eye Brush
UP09 Cream Contour Brush
UP11 Bake and Contour Brush
UP12 Face Finish Brush
UP13 Under Eye Blender Brush
UP14 Powder Blender Brush
UP15 Tapered Highlighter Brush
UP16 Sculpt and Blend Brush
UP23 Transition Blender Brush
UP25 Crease Blender Brush
UP26 Buffer Brush
UP28 Inner Corner Brush
UP29 Precise Blender Brush
UP32 Smudge Brush
UP33 Small Eyeshadow Brush
UP34 Large Blender Brush
UP35 Eye Definition Brush
UP38 Eyelid Brush
UP39 Precision Eye Brush
UP40 Cut Crease Brush
How to use:
PS: bij aankoop van deze set worden de kwasten geleverd in de nieuwe brush belt die je er gratis bij krijgt, zodat je de kwasten gemakkelijk kunt opbergen en meenemen, zonder dat deze beschadigen. Tevens kun je de brush belt om je middel dragen, zodat je de kwasten altijd bij de hand hebt, handig!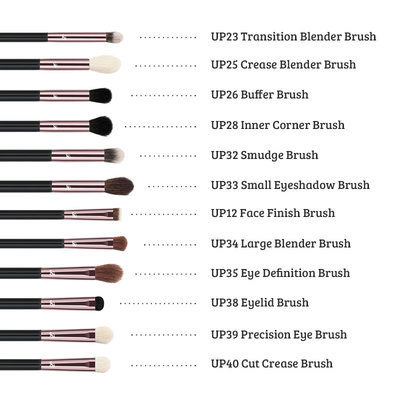 Mooie kwasten! Zijn van goede kwaliteit.
Ben een pro en vanwege de belt deze aangeschaft, makkelijk blijft ook mooi net zoals de kwasten. Als pro kan je niet zonder goede kwasten en deze zijn ook nog eens echt betaalbaar. Al veel collega's kennis laten maken en staan ook echt versteld van de kwaliteit voor deze prijs
Goede kwasten zeker aan te raden.